Winter Wonderland DIY Gnome Ornaments
We just love these easy to make DIY Gnome Ornaments—they are perfect to add to the Christmas Tree, hang on a wreath, or just to keep out all winter long!
You could easily customize the colors to make them more merry for Christmas, or use the free printable gnome hat pattern to make them festive for any occasion!
Scroll down for the full step-by-step instructions, plus links to all the supplies needed to make the gnome ornaments!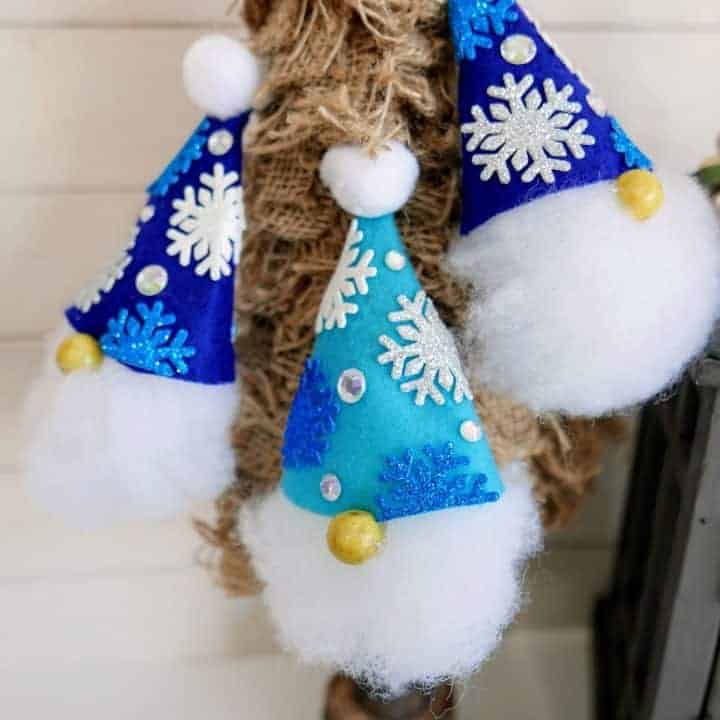 How to Make a Winter Wonderland DIY Gnome Ornament
A quick and easy tutorial for a Winter themed Gnome ornament that anyone can make!
Materials
Hat template
Sharpie marker or fabric marking pen
1 sheet each of blue and aqua craft felt
Scissors
⅜" White craft ribbon
Needle and white thread
Glitter foam snowflake stickers
Self adhesive iridescent craft gems
Hot glue gun and glue sticks
Polyester fiber fill
Large round wooden bead
Instructions
Print & cut out the hat template.
Trace it onto the craft felt with a marker or fabric marking pen. Next, cut out the template on the felt.
Cut a piece of white ribbon approximately 5", and fold it into a loop. Sew 2-3 running stitches between the cut ends of the ribbon loop to the pointed end of the felt, making sure to keep the knotted end of the thread on the same side as the ribbon loop.
Once the ribbon is secured with a few stitches, fold the template in half, leaving the ribbon ends on the outside. Continue a running stitch down the open side of the felt, leaving a small gap at the top, so that you can push the ribbon through. Knot at the end, and cut the excess thread.
Push the ribbon loop through the small gap at the top, and then turn the felt inside out. (I used the needle to help pull the ribbon through the small gap)
Remove backing from snowflake stickers, and decorate both sides of the felt hat. Next add a few of the adhesive craft gems to both sides.
Take a handful of fiber fill and stretch and fluff it into a large ball shape. Push the fiber fill into the felt hat, and then hot glue all around the inside of the hat to attach the fiber fill.
Hot glue a white pom pom to the tip of the hat.
The last step is to hot glue a wooden bead as the nose, right below the rim of the hat. Your gnome is complete, and ready to be hung!
Notes
Play around with color combinations or accessories for your own unique mini gnome decoration!
These are so easy to make, we might just put them all over the house!