4th of July Adult Party Ideas
There's nothing better than gathering friends and family for the Fourth of July. Here are some unique 4th of July adult party ideas to make your celebration a "blast."
The Fourth of July is a fun holiday for all, and many families choose to host cookouts and outdoor parties when celebrating our nation's birthday.
Easy 4th of July Adult Party Ideas
Planning a fun July 4th get-together can be fun and relatively easy to do.
Decorations for an Adult 4th of July Party
Party supply stores and discount stores are perfect places to go shopping for summer party décor.
Small red, white, and blue pails make great silverware holders. Purchase an inexpensive clear or white tub and use a star-shaped sponge and red or blue paint to decorate; this makes an excellent beverage holder.
For centerpieces, fill terra cotta pots with decorative stones or sand, and insert small American flags. Be creative! Party hosts need not spend a fortune on decorations to achieve a festive look.
For more idea, check out this post full of Decorations for 4th of July parties.
Patriotic Food Ideas
Most Fourth of July parties have the usual cookout fare: hot dogs, hamburgers, chips, and side dishes.
When firing up the grill, try these ideas for a more Independence Day-themed party. Star fruit (or watermelon shaped with a star cookie cutter) can be sliced and placed on dishes for a unique garnish.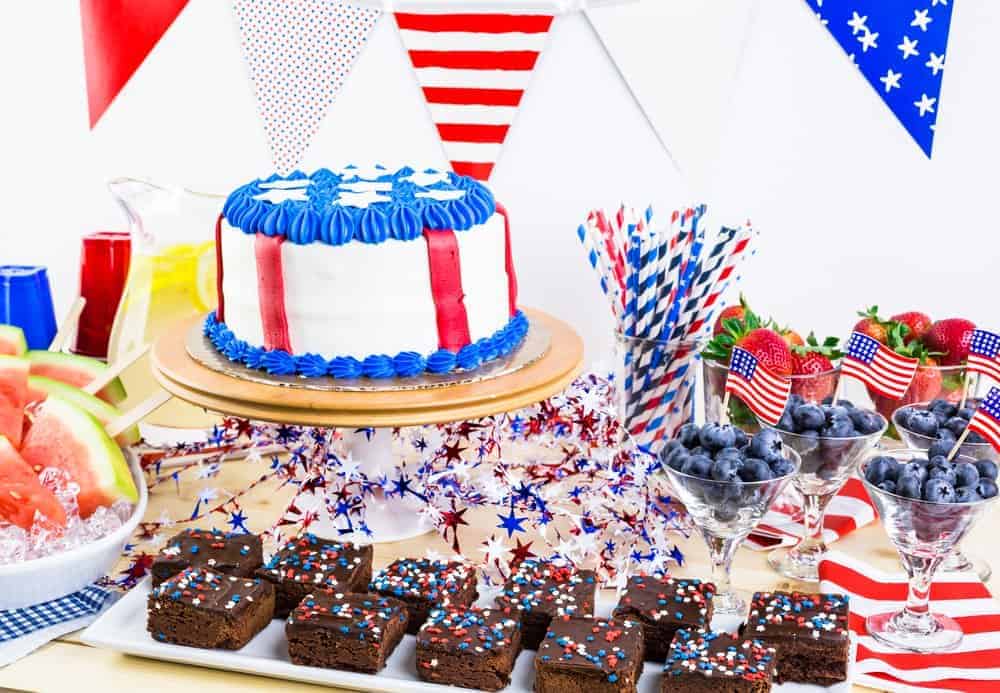 Try layering red and blue Jell-O and cutting out star shapes for garnish.
We have a ton of 4th of July Party Food ideas—be sure to check them out!
4th of July Drink Ideas
Think red, white, and blue to create a spin on the traditional barbeque.
For festive beverages, layer vanilla ice cream, blueberries, and crushed strawberries in parfait glasses.
Kids' Activities for July 4th Party
When party planning, it's always a good idea to have activities on hand for kids, so the adults can relax and enjoy one another's company. Try these game ideas for Fourth of July fun.
Set up backyard games, such as croquet, ring toss, and horseshoes. Have some small prizes on hand (4th of July pencils, stickers, squirt guns) for the winners.
Set up an Independence Day scavenger hunt, hiding various symbols of the holiday—such as sparklers, miniature flags—around the yard.
Give each child a list, complete with boxes to check once they find the items, and give an award to the one who completes the list first.
Fill red, white, and blue water balloons before guests arrive and let kids toss them in a designated area. Or, have a contest to see who can keep their balloon from popping.
The key to a successful family-friendly party is to plan something for everyone. If the kids are entertained, adults are more likely to be able to enjoy themselves.
Safety Considerations for a Fourth of July Party
Fireworks are an Independence Day tradition, and most cities have community fireworks displays. When planning to set off fireworks at a party, preparation is essential, especially if children are present. Kids love sparklers, but supervision is required. A cold cup of water should be kept close for used sparklers, and adults should always light them.
When planning a fireworks display, put one or two adults in charge. Make sure that guests are safely out of the way before lighting bottle rockets or other large fireworks. Party hosts should be aware of state regulations on home fireworks displays.
And be sure to properly clean up after too!
4th of July Party Favors
If you want to send your guests home with a token to remember the special event, the following are some great party favors for a Fourth of July party.
American flag
What is more patriotic than an American flag? They sell small flags for very inexpensive.
For instance, in some Target stores, you can purchase a package with several for only $1. This can be nice that they can then keep in their house or office to display.
It is convenient because it works well for children and adults as well as male and female guests. You can get one that is nicer and has cloth or one that is simple and made of plastic.
Patriotic jewelry
There is some fun jewelry that can be good to put into a favor bag for your party. They sell a wide variety of red, white and blue beads. Sometimes the beads are star shaped and sometimes they also have flags on them.
These can be fun for them to wear during the party, and then you can let them keep them as the favor. They can save them to wear during other patriotic events. In addition to necklaces you will see other fun costume jewelry items such as bracelets, rings and more. Some of them have special features such as they light up.
Uncle Sam or Patriotic Hat
You will find a lot of fun hats for a Fourth of July party, and this can be a nice favor. Check Dollar Tree and other inexpensive stores for party hats with red, white and blue glitter on them (sometimes white is represented by silver). They also sell headbands with this theme as well.
If you want to spend a little more money and give away something a little more practical, then you can get everyone a baseball cap with some sort of Americana motif, such as an American flag or "U.S.A" written on it.
Patriotic stationary items
You can purchase pads, pencils, pens and other stationary items that have an red, white and blue theme. Some might have the flag on them, white others might have stars or just be in patriotic colors. You can often find these in the dollar store or section during this time of year.
A patriotic party favor can be a nice gesture after a Fourth of July party. Consider the above ideas when putting together your gifts.
Fourth of July parties can be the highlight of the summer! A little creativity goes a long way when planning holiday get-togethers.
More 4th of July Ideas to include: