27 Spooky Halloween Party Invitation Wording Ideas
It's time to start thinking about Halloween party invitation wording to get everyone excited for your big Halloween event and we have some great examples of wording for Halloween invites to help find the perfect text!
If you are planning a spooky Halloween bash, then this post is a great place to start!
Invitations are a great way to share your party plans with all of your friends and family members. You can find a ton of premade invitations here that you can choose from and change up the text, or make your own!
It is important that you find the right words for your party invitation. It should reflect the tone of the event – will it be creepy? Will it be whimsical? Let's explore some possible phrases you can use on your invitations!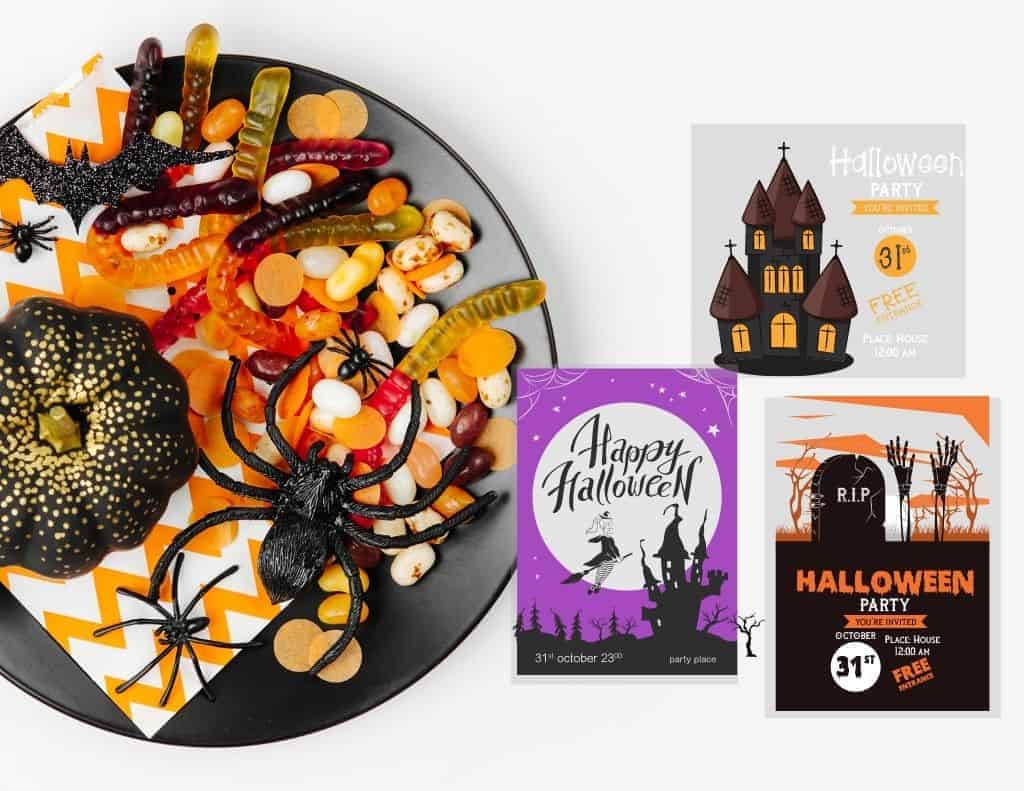 This post may contain affiliate links. As a member of Amazon Associates and other affiliate programs, I may earn a commission from qualifying purchases.
Be sure to also check out our guide to Thanksgiving Invitations Wording as well!
Things to think about when choosing wording for Halloween Party Invitations
The wording on your invitations is the first thing people will notice before they choose whether or not to attend your Halloween party, and you want to make sure the wording is enticing. Be careful with the words that you use, for example, do not use "ghoulish" as it sounds slightly too scary.
1. Pick a invitation that matches the theme of your party
While it might be tempting to send out a simple text message to let people know that you're throwing a Halloween bash, nothing beats an invitation with some idea of what the party will be like.
The first thing to do is to decide what kind of party you want. Do you want a campfire party, a Halloween-themed dinner party, or a costume ball?
Dark colors and creepy font give off an eerie vibe, which can match the theme of a Halloween party perfectly. They can be dramatic and gory, or even simple and fun with cute Halloween clipart which can create a child-friendly spooky vibe.
If you are hosting a haunted or scary Halloween party at your house, it is important that you include some scary details in the invitation. This will make sure that people know what they are signing up for and will make them more excited to attend.
2. Create a magnetic first impression for your party invitation wording
Below are some tips on how to create an impressive and memorable party invitation wording:
– Put yourself in the guest's shoes: you want them to be intrigued by what they read. Think about how you want people to feel when reading your party invitation wording, for example excited or curious
– It is not necessary to include all details in the initial invite
– Keep it short and sweet but make it descriptive enough so that people know what they're going to be getting into
– Make sure there are no spelling errors
3. Include all of the important details on the invitation.
You should also announce the time and date of the party and where it will be located. You can also give guests more information about parking and directions.
4. Keep your party invitation text short and snappy – don't get too wordy
It is important for your party invitation to be clear and concise. You want to make sure that your guests are able to respond quickly and show up without any confusion.
When creating a party invitation, it is essential that you keep the text short, snappy, and clear. You want to make it as easy as possible for guests to respond and show up at the party.
The text of a party invitation should not be too wordy or complicated. If you get wordy or complicated with your text, some of your guests might get confused about where the event will take place or when they need to show up.
5. Make sure your text is appropriate for all audiences attending the party
For a text to be appropriate for all audiences at a party, it must be pleasant and not sound too formal. For more casual adults-only Halloween party, for example, if the choice of word is "cocktails", you can use "drinks" instead to have a more laid-back feel to the overall party and invite.
The text should also avoid sounding like it is an announcement speech. It should focus on using words that are casual and conversational in order to appeal more to the audience.
6. Make the Halloween invite interesting by adding an element of surprise, mystery or even terror!
There are lot of ways to add interest to an invitation.
One way is to send the invite with an attached gift or include Halloween themed confetti in the envelope.
Another way is to use a creepy font in order to create some more suspenseful feelings for the people receiving the invite.
Halloween Party Invitation Wording Examples
Halloween is a great time to gather with friends and family in order to have an unexpected night of fun. We've got some great Halloween party invitation wording examples below that can help get your creative juices flowing!
Below are some examples of Halloween Party invitation wording that can help you get started with your own party invitation—use these as inspiration for your own spooky invitations!
Sample Text for Halloween Party Invites
Halloween themed opening text for invites:
"It's such a scary world these days, so let's have a party!"
"I think it's about time we have our annual Halloween party!"
"This October is going to be the scariest October ever! So let's have a party before it all gets too paranormal."
"We're celebrating Halloween in style this year! Please join us on Saturday night for our annual Halloween Party."
"Come celebrate the spookiest holiday of the year with us!"
Join us for a spooktacular halloween party
Join us for a spooky Halloween party.
Dress up in your scariest halloween costume and come party with your friends.
Don't miss this spooktacular Halloween party.
Party time! Join us for a spooky Halloween party and dress up in your scariest halloween costume.
Don't miss out on this spooktacular Halloween party.
We are excited to have you at our Halloween Party. Come dressed in your favorite costume.
More phrases to use in a halloween party invitation
As we get ready to celebrate All Hallows' Eve, it can be tough to come up with fresh, new ideas for invitations. Luckily, we've got a few more phrases that will set your invitation apart and get your guests in the mood for a night of trick-or-treats and ghost stories.
adults only halloween party invitation wording
Happy Halloween! Come celebrate with us at our adults only Halloween party on October 31st!
Address
City, State ZIP
P.S. Be sure to dress up—you won't want to miss out on the costumes prizes!
Halloween Party
Friday, October 31st
8:00 PM
The Carlow House
This is a private party for adults only. Please do not bring children with you.
You're invited to an Adults-Only Halloween Party on Saturday, October 31, 2007 from 7:00 pm until Midnight. Costumes are encouraged. Please RSVP to XX by October 25th if able to attend.
This Saturday night we are having a Totally Terrifying Party!
You are spookily invited to this Halloween event where we will have a live band, hauntingly awesome decorations, and a lot of candy!
Please come dressed in your scariest costume and enjoy the night with us!
-Warning-
This party is not for the faint of heart!
There's nothing so frightening as a Scary Costume Contest at our event!
Simple Wording for Halloween Invitations
You're invited to our Halloween party
Saturday, October 30th
6:00-8:00
1234 Elm Street, Any Town, United States
It's that time of year again!
You are invited to
A Halloween Party
At
Your Address
On
October 27th, 2015
From
7:00pm-11:00pm
Costume Optional
The Haunt
Saturday, October 27
7pm to 9pm
The Haunt
Who: All who dare to walk the haunted path
Where: The Haunt
What: A night of ghouls, ghosts and goblins for the bravest of souls. Please join us for a Halloween celebration you will never forget!
Cost: Free admission
halloween bash
spooky night
friday, october 25th
7:00 pm
come to our halloween bash! wear a costume or just come in your spookiest attire. we'll have a haunted house, spooky games, and tasty treats.
kids halloween party invitation wording
Come to our Halloween Party at the ____ on _______ at _____pm
We'll be handing out __________ and playing games.
Costumes are encouraged, but not required.
RSVP today!
Don't forget to bring your Trick-or-treat bucket with you! We will be trick or treating around the neighborhood during the party as well.
Join us as we carve a pumpkin, play games and have a feast of fun.
Please join us at our Halloween party on
The date of the party is:
Time of the party is:
Please come in your favorite costume and bring a dish to share.
We're so excited to celebrate with youat our Kids Halloween Party!
The theme for this costume party is Superheroes & Villains, pick your favorite from either to dress up as!
The party will take place on Saturday, October 26thfrom 6:00-8:00 p.m.
RSVP by October 17th
Sincerely,
The Kids Halloween Party Committee
You are invited to the
Super Awesome Halloween Party
October 31st,
12:00 PM – 3:00 PM
The more the better! No RSVP Required
Letter to Parents about Halloween Party
Dear Parents,
It is that time of year again!
Halloween is just around the corner and we want your children to know that it's time to get ready for the most spooktacular day of the year!
We will be having a fun day full of games, activities, and of course, trick or treating. We hope that you can join us for our party this year!
Please RSVP with how many kids/adults from your family will be attending!
Email Invite Wording for Halloween Party
Casual email to invite someone to go to a party with you:
Hey Steve!
Do you have plans for Halloween? A friend of mine is hosting a party on Oct 31st at 8pm in (town/at bar or restuarant name). There will be snacks, drinks, games and prizes—I'd love for you to join me!
Let me know what you think! – Joe
Email Party Invitation Text
SUBJECT: HALLOWEEN PARTY!
Please join us for an evening of ghoulish fun and frightening festivities.
The party will be held at _________ on _________ from _____ to _____.
We'll have _____, _____, _____, _____, and _____-____.
The dress is casual and costumes are encouraged!
Come on over and have a yummy time!
Check out these ideas to make your party the best one ever!